Bactrim (Sulfamethoxazole)
Bactrim (Sulfamethoxazole): What is it for and how to use it?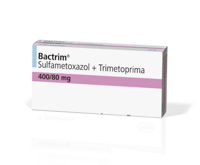 Bactrim (Sulfamethoxazole)
Verified
Satisfaction guaranteed!
Generic Bactrim Sulfamethoxazole is an antibiotic that works to treat different kinds of bacterial infections. This works to fight any bacteria that is in your body. Sulfamethoxazole works to treat infections like UTIs, ear infections, bronchitis, issues with diarrhea, and some forms of pneumonia. There are also other uses of it.
Generic Bactrim (Sulfamethoxazole) Medical Information
Generic Bactrim is an antibacterial used to treat a wide array of bacterial infections. Bactrim contains Sulfamethoxazole and Trimethoprim, which are two different types of antibiotics that work together to fight infections caused by bacteria. Sulfamethoxazole is classified as a sulfa drug and Trimethoprim is not specifically classified. Because Bactrim contains these two different antibiotics, this increases the effectiveness of the medication, while decreasing the chance of becoming resistant to the antibiotics.
Bactrim (Sulfamethoxazole) indications
Generic Bactrim is often indicated in the treatment of middle ear infections, urinary tract infections, bronchitis and other respiratory infections, intestinal infections and traveler's diarrhea.
How to use Bactrim (Sulfamethoxazole)
Bactrim is available in a tablet form or liquid suspension. It should be taken with a full glass of water. If taking for an intestinal infection with symptoms of nausea or vomiting, generic Bactrim should be taken with food or milk. When using Bactrim, be sure to drink plenty of water to prevent the formation of urinary stones that can develop from sediment buildup. Prescriptions should be followed carefully as this medication works best when it reaches prescribed dosages in the blood and remains at this level. Bactrim generic is not recommended for children under 2 months of age as serious side effects could occur. Bactrim generic, Sulfamethoxazole and Trimethoprim should only be used for bacterial infections.
Similar products