Latisse (Bimatoprost)
Latisse (Bimatoprost): What is it for and how to use it?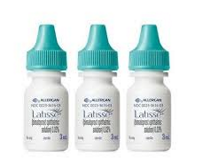 Latisse (Bimatoprost)
Verified
Satisfaction guaranteed!
Generic Latisse (Bimatoprost) medical information
Latisse is the only eyelash growth treatment that has been approved by the FDA. Generic Latisse and its active ingredient Bimatoprost will make your eyelashes stronger, darker, longer and fuller in just a couple of weeks. You will start to see the results after just eight weeks, and after sixteen weeks you will have the eyelashes you always dreamed of. Latisse is a liquid that has to be applied with an applicator nightly. Using generic Latisse for a longer period of time will also give you more eyelashes than you've ever had.
How does generic Latisse (Bimatoprost) work?
Even though generic Latisse and its active ingredient Bimatoprost have been approved by the FDA, very little is known about the exact functioning of this eyelash growth product. The ingredient Bimatoprost is a so-called lipid compound that helps with the binding of prostaglandin receptors. This lipid compound causes the eyelash hair follicles to grow and to give you the beautiful eyelashes you've always wanted.
How to apply Latisse (Bimatoprost)
Generic Latisse comes with free applicators; every applicator shouldn't be used more than 20 times. You simply need to apply some of the Latisse liquid to the upper eyelid once a day with the applicator; it isn't necessary to apply it to your lower eyelid as well. It's not dangerous to spill some of the liquid in the eye, but it's best to avoid it since it may lead to darkening your iris. It's important to keep applying generic Latisse, even when you have achieved the perfect eyelashes you wanted.
What are possible Latisse (Bimatoprost) generic side effects?
Every good cosmetic and health product has possible side effects; generic Latisse is of course no exception on that rule. There is a list of common side effects that some people experienced when using Latisse generic for the first time, these usually go away after using Latisse for a few days. If the side effects keep occuring, it is of course best to consult your local doctor or dermatologist to find out what the problem is and if you should still continue using Bimatoprost.
Talk to your doctor about using Latisse in the following cases:
If you have had eye infections before
If you are intending to undergo eye surgery
If you are using other similar eyelash products
If you have severe eye problems
If you have experienced eye pressure difficulties
If you have an abnormal IOP
Similar products